Awards 2020
University of Stirling and Lancaster University were among the winners at the 2020 AUDE awards which was due to take place on the 31 March at the University of Birmingham. This year as with much as everything else, COVID-19 has hit our plans and we were unable to announce our award winners at the AUDE Conference as we usually would. To ensure that the 2020 award winners were celebrated in absence of this year's gala awards dinner AUDE have worked with award sponsors Hoare Lea to produce a virtual awards video to honour and celebrate this year's awards winners.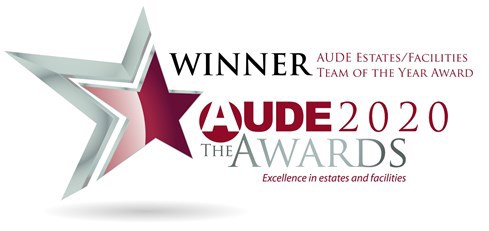 AUDE Estates/Facilities Team of the Year Award
Winner: The Estates and Campus Services Team, University of Stirling
The University of Stirling Estates and Campus Services team has won our team of the year, for what might politely be described as an "interesting" period in which every element of the business continuity strategy has been tested. Less than 24 hours before last summer's graduation ceremony, which was due to be combined with the inauguration of a new Chancellor, and with guests expected from across the world, a "once in one hundred years" level of rainfall threatened the entire event. Taking the initial warning phone call of what was happening, Director of Estates Colin McNally was told of "carnage" on campus, with floods a foot and more deep across large areas, problems with drains and electricity supply, and landscaping washed downhill. Overnight, forty team members worked to prioritise and assess, while from first light the entire team was in to make sure the important event could go ahead. After a massive effort that day Stirling successfully welcomed more than 2500 visitors to campus.
As Colin told us, "It is real honour to have won this award. It is also a much welcome recognition for the incredible efforts of the Estates team at Stirling University to manage an extremely difficult and demanding situation following the events of 24th June 2019. The response from the Estates team went above and beyond what could reasonably be expected of them and saved that year's graduation.
"In addition the team continued their heroic efforts and worked all summer to refurbish student accommodation and a third of the teaching estate which was badly damaged as a result of the severe flooding. This work required a considerable amount of co-ordination and teamwork and covered decontamination of buildings including a Grade A listed building (Pathfoot), refitting and replacement of furniture. All of this was achieved within eight weeks meaning the Campus was open for business as usual in time for the arrival of students at the start of the new semester.
"The application for the award was made as a tribute to the team who showed outstanding resilience and ingenuity in the face of considerable challenges. Their work in collaboration with partners in the insurance sector, loss adjustors and contractors was exemplary and in fact is now being considered as a case study. I feel immensely proud to have led the Estates team during this challenging time."
Speaking on behalf of the judges, AUDE's Executive Director Jane White was keen to acknowledge the immense efforts of that exhausting 24 hour period immediately following the flood. "We all hope we have reserves of energy and determination to use when called on, and the Stirling team clearly gave their all to make sure the important event happened. But in the aftermath it wasn't just energy and grit, but professional skill and focus that enabled Stirling to re-emerge for the new term just eight weeks later. At a point where we are all thinking about business resilience issues this episode was a very meaningful example for the judges of how focused and professional teamwork from those in estates is a bedrock of university success."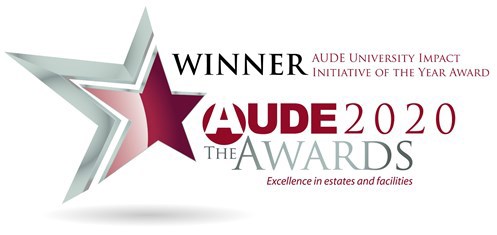 AUDE University Impact initiative of the Year Award
Winner: Estates Accessibility and Inclusion Initiatives, University of Warwick
The University of Warwick have won the AUDE Impact Initiative Award for a range of linked projects designed to increase accessibility and inclusivity on campus, including "Supporting Disabled Students: The Radio Revolution". It is striking how much of the work Warwick have undertaken could be easily lifted and adapted for use in other universities, and also how the benefits of the work at Warwick are rippling out beyond campus, to impact on local retail areas for instance. Following an Access Audit, accessibility is much higher on the estates agenda, and inhouse lived experience and expertise in the form of Accessibility Officer Jenny Wheeler means accessibility and inclusivity is brought into planning from the word Go – whether that be in new capital projects or in reactive maintenance.
Warwick have thought anew about their existing infrastructure, the existing campus radio, and how it can be used to improve safety on campus. A new push button option allows students and staff to contact the security team directly for help, saving time and perhaps amounting to a life-saving impact in an emergency.
Jenny Wheeler, Accessibility Officer within the Estates Team at the university – one of the first in such a role in any UK university - explains. "We've taken huge strides in terms of awareness of these issues, and none of this is a secret: it's transferable to any university, and that makes it an exciting and positive example to follow. The existing university radio system has been developed into an all-round support mechanism. It's already familiar across campus, and we've been flexible in finding new ways of using it – as bedroom epilepsy alarms or toilet alarms for instance. Users of the personal safety alarms are supported by GPS tracking that updates their location every 7.5 seconds. This is such an additional added reassurance that they will be safe in an emergency. As a user myself I know that I can come to campus and be safe thanks to my radio."
The system can also generate texts to carers to tell them an emergency button has been pressed and allowing another means of support to kick into action. The alarms are all configured to tell Security the personalised information necessary so they can offer the quickest best support for the individual.
Stephen Wells, AUDE Chair (2020) and Director of Estates at the University of Sussex, and an awards judge, said: "Warwick is a step ahead of most of us in thinking about the issue of safe and accessible campuses and the level of support they can now offer to disabled staff and students is impressive. As judges we were very convinced by the impact of the work that has been undertaken and grateful for the collegiate spirit Warwick have shown in their readiness to share ideas in this area."
Speaking on behalf of the Warwick team, Director of Estates James Breckon said: "The impact of recognising a specific role within the department in support of our overall inclusion strategy across the University has been dramatic. With the appointment of Jenny into that role she has transformed our approach to ensure that accessibility and inclusion for everyone is considered across all our facilities and buildings. Jenny and her influence across the estates teams both in the project and maintenance areas, has enabled people to be supported whilst at Warwick, making their experience both enjoyable and memorable. It is also very pleasing to see that Jenny and her colleagues have shared this new way of working across the sector and wider construction industry through active participation in national conferences, debates and discussion.
"I know at Warwick, the Estates teams work tirelessly on caring and creating for spaces that inspire excellence, and it gives me great pleasure in the fact that this team have been recognised for the brilliant work that they do. So congratulations Jenny and her other colleagues involved in this initiative, it is very much deserved."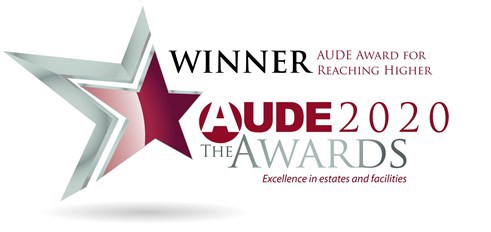 AUDE Award for Reaching Higher
Winner: Lancaster University Wind Turbine Community Benefits Fund
The Lancaster University Wind Turbine Community Benefits Fund (CBF) project is the winner of the 2020 AUDE Award for Reaching Higher. The turbine itself was installed in 2013 right next to the campus and it is an imposing presence as delegates to AUDE's 2019 conference will remember. During six annual budgeting rounds since installation, a £20,000 fund has been allocated each year to support local community initiatives across the wide rural area impacted by the installation.
A steering group, guided by clear criteria, assesses applications for funding. Grants are typically small in size and range from the creation of a multi-use village footpath to the installation of PV panels and low energy lighting and heating in local community buildings, and training volunteers in coppicing and hedging.
Speaking for the team at Lancaster Jon Mills, Carbon, Environment and Sustainability Manager explained that "The fund has been able to award £120,000 to 54 projects over the last six years ranging from energy saving and renewables generation to community food growing projects, play parks and community spaces. It's been a pleasure to be able to support so many fantastic environmental and community projects through this fund."
Few other universities have so far followed Lancaster's path in constructing large scale renewable energy generation systems such as the wind turbine; and whilst CBFs are typical for commercial renewable developments, the implementation of a CBF for a single turbine scheme is virtually unique. The CBF is an entirely voluntary arrangement established by Lancaster University and clearly signals the commitment of the university both to the sustainability agenda but also its role in attempting to mitigate the impacts of the turbine around its local community.
Paul Morris, Director of Capital Development and Estate Operations at Lancaster said: "We are extremely proud to have received this award. The Community Benefits Fund is key to our overall Sustainability Strategy at Lancaster and an important part of supporting local sustainability initiatives and engaging with the local community, businesses and the City."
"There was no contractual obligation on Lancaster for them to do this," noted AUDE Executive Director Jane White on behalf of the awards judging panel. "But there is a clear understanding that is demonstrated in the university's choices, that we don't exist in isolation, and that our relationships with our local communities are among the most important we hold. Civic engagement is an immensely important strand our of our corporate activities as universities, and this project shows one way to succeed in this. That the project also highlights a substantial example of renewable technologies feeding into the day-to-day management of our universities also makes a mark."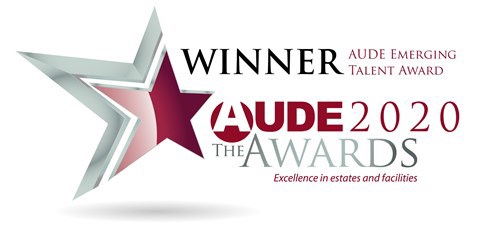 AUDE Award for Emerging Talent
Joint winners: Jessica McGrellis (University of Glasgow) and Grace Smith (Sheffield Hallam University)
Jessica McGrellis, Project Development Manager at the University of Glasgow, and Grace Smith, Estates Information and Data Manager at Sheffield Hallam University, are joint winners of the 2020 AUDE Emerging Talent Award. This award is given to those relatively new to a higher education estates career who are already making a significant impact within their university.
Jess McGrellis is a former Student Union President at Glasgow (2013-14) and became interested in space management and the way space configurations support teaching experiences during this time. Having qualified as a chartered surveyor and developed her early career in the commercial sector, Jess returned to Glasgow where, as Development Manager within the Estates Team, she works on a wide range of capital projects including a new Business School. For this project she has been building the business case, working with architects to ensure the initial vision for the project comes to fruition in the design, helping to steer the plans through approval, and onto site.
Jessica said: "I feel very honoured and grateful to receive this award. I am lucky to have worked on inspirational projects, surrounded by exceptional colleagues who have been instrumental in my early career development. Despite these strange and uncertain times, the University Estates sector should still be at the forefront of developing inspiring, healthy and sustainable places and facilities for cutting-edge research and shaping our next generation of world-changers. I look forward to continuing to be part of that at the University of Glasgow."
Karen Lee, Director of Performance, Strategy and Transformation, added: "Jess has brought curiosity, creativity and challenge to the team. She has quickly carved a key role for herself with her ability to bring people together to create a common purpose, along with her enthusiasm and positivity. She has built a strong and positive working relationship with colleagues in project management, and her impact can be measured in how she builds confidence and respect amongst her peers, with project sponsors, teams and senior managers, delivering robust, professional and insightful analysis and contributions to the development of capital projects. She has quickly established herself as a respected and valued colleague."
Grace Smith's challenge on joining the estates team at Sheffield Hallam was twofold – to define what is a new role, but also to quickly learn a new industry. Grace has relished this challenge to become an indispensable member of the team and a subject matter expert rapidly. The role is cross-functional, cross-team and requires negotiation with and influence on colleagues of all grades and professional disciplines. As Owen Anthony, Head of Programmes, Property and Performance at the university explains, her role requires Grace to "act as translator of requirements, to knit complex processes into existing ways of working or amend processes to drive improvement and consistency. Grace has learned construction specific practices such as RIBA stages, CDM regulations, BIM terminology, ISO, NRM and PAS guidelines. She has done this to the point where her knowledge now exceeds that of colleagues who have been working in the industry for decades."
He describes a time period "BG" – that is Before Grace – of inconsistent processes and data that wasn't easy to find or use. As her abilities have been recognised so has her portfolio of responsibilities grown. Starting from a position of never having worked in a construction environment, Grace has taken the brief of upskilling herself, and exceeded this to such an extent that she has become an in-house expert and advisor. The team is no doubt very much looking forward to Grace returning from her current maternity leave.
"There is something fantastic and impressive about the energy and drive we can bring to new roles, when our determination to learn quickly is most apparent. Both our winners have thrown themselves into their new responsibilities and rapidly taken on more than was envisaged, or at a higher quality of output," said Craig Nowell (AUDE Chair 2019). "We're delighted to be able to recognise the great work of both Jess and Grace in this way."

The AUDE Chair's Award for Long-term Contribution
Winner: Andrew Burgess, Lancaster University
The AUDE Chair's Award for Long-term Contribution has gone to Andrew Burgess, Director of Estates, Facilities and Commercial Services at Lancaster University. Andrew is the current AUDE Treasurer and has served on the AUDE Executive committee over many years, including as Chair of the organisation in 2014-15. Among other roles in the sector Andrew has also held the position of Estates Director at Loughborough University, where he hosted the AUDE annual conference in 2012, just as he did subsequently at Lancaster in 2019.
"Andrew's career in higher education estates stretches back to the early 1990s, and staff and students at five different universities have seen his professional contribution," said Jane White, AUDE Executive Director. Few have added more to the success of AUDE in recent years than Andrew has – as a dedicated contributor to plans, as a member of the Executive Committee, as AUDE Chair and now as our Treasurer, where he has contributed enormously to our current business plan, in which we aim to increase membership to business partner and international categories. We're grateful on all these scores. But of course his close colleagues, and we on the AUDE Executive, also know him as a proud Liverpudlian, and a proud grandad. It is a total pleasure to work with him. Thank goodness he's not retiring!"