Awards 2021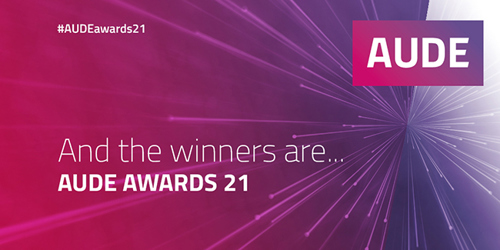 We are so proud of all the AUDE Award winners for 2021. Winners were announced on Thursday 15th April 2021 at the AUDE Conference – Coronacoaster. Here are their stories.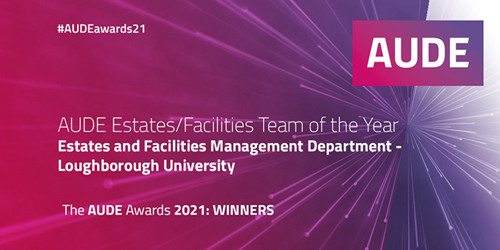 The AUDE Estates/Facilities Team of the Year
WINNER – Estates & Facilities Management Department, Loughborough University
"This award really could not have come at a better time," reflects Graham Howard, Director of Estates and Facilities Management at Loughborough University. "We've all had a tough year in the sector and to have your work benchmarked by peers as is the case with AUDE Awards and to win is a huge source of satisfaction for the team. The award helps give our work extra weight and credibility within the university. We're really pleased.
"The team have been brilliant through this endlessly challenging time. Prior to Covid we'd had a tough Quadrennial Review in 2019 with some clear areas for us to work on. We needed to come up with answers to some important but basic questions – what do we do, how and why? Campus Services was incorporated into Estates and Facilities midway through the Pandemic and our team is now 700 strong working across both Campuses in the East Midlands and London. We have stabilised and the team has gone from strength to strength, we are now focussing on areas to improve upon, and will then look to optimise our performance.
"I don't want to suggest the Loughborough Covid experience has been more challenging than anyone else's – it's been difficult for everyone. Here, it has felt like we've been dealing with the four horsemen of the apocalypse at the same time as dealing with the pandemic itself. We have been challenged by flooding on a significant scale, fire compartmentation, an outbreak of legionella and power failures just a day before online exams and more. In short it has been the most demanding year in our professional lives. We established a Covid Logistics Hub at the start of the pandemic which is open 18 hours a day every day and acts as a command and control centre for every aspect of Covid response. It has now provided more than 120,000 meals, a laundry service and together with the students' union, a prescription and parcel collection service. With E&FM the second largest consumer of university budget, it is vital that we play a full part in recovery, with the right service at the right standard and costs whenever it is needed. I believe we are well placed to come out of Covid and this award win will boost morale to help us."
Speaking on behalf of the judges, AUDE Chair Stephen Wells said: "The Loughborough entry was a textbook case of how to demonstrate impact in a wide range of areas – from estates team management interaction with other departments, to project management discipline, to those day-to-day tasks – power supply, compliance and more – that can have a disastrous effect on reputation if mishandled. Graham and the team at Loughborough have every right to celebrate this win."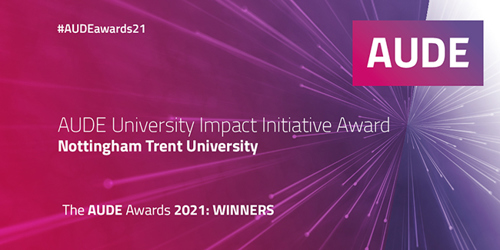 The AUDE University Impact initiative of the Year
WINNER – Nottingham Trent University
Restoration of a listed synagogue into the new University Hall
Speaking to Craig Hession, Head of Construction Services at Nottingham Trent University, ahead of the announcement of this award there is real pride as he talks about the project to convert a listed synagogue, bomb damaged from the war and somewhat down on its luck, into a new cultural and arts space which now has civic use for the entire city.
"The new University Hall also had a former life as a Wesleyan Chapel and taking and maintaining the best of the building's history was really important to us," Craig explained. "We needed to maintain that heritage while bringing new purpose to the building with, for instance, the best of current digital technology so that the building could be used for arts events and graduation ceremonies. Ventilation, heating and air-conditioning systems are hidden within a decorative ceiling, while data and power systems are within traditional pew seating. You could say we've completed the restoration with sympathy. But empathy is also the right word: we really cared about the process and we are proud of the results."
Trevor Wills, Director of Estates at NTU, added: "This is now a building for celebration. It can house 500+ people and host the kind of graduation ceremonies that our students deserve. But it is an important indicator of how the university can act within the Nottingham community too and provides a new civic space for the city. The construction was managed by our own internal team and they can be really proud of their work. I'm grateful to AUDE for recognition for this project – it's a boost for the team to have this acknowledgement of work well done and particularly after this tough pandemic year."
Umesh Desai, Director of Estates at De Montfort University and Chair-elect of AUDE, spoke on behalf of the judges. "Many of us deal with heritage projects of one kind or another and they always bring interesting challenges. The new University Hall at NTU clearly adds new options not only for the university – it makes a great graduation space - but for the city as well, playing a major role in arts and culture events. The ideal mix of the modern and the historic is a balance we all try to find, and a balance that the estates team at NTU have achieved."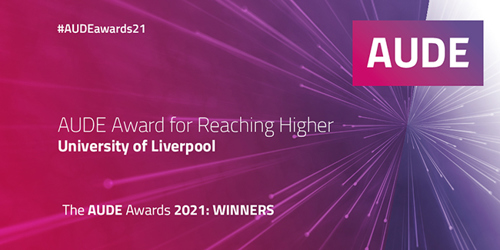 The AUDE Award for Reaching Higher
WINNER – University of Liverpool
Fire safety assurance in purpose-built student accommodation through whole-system collaboration
Recent fires including the 2017 Grenfell disaster remain a vital part of the risk context for estates teams in all our universities. The collaborative approach to fire safety, in which the team at the University of Liverpool drew together a cross-region group of stakeholders including John Moore's University, Hope University, the Local Authority, Merseyside fire service and PBSA providers in partnership, aims to raise the level of fire safety in student residential accommodation across the city region, and is the 2020 winner of the AUDE Award for Reaching Higher.
Stewart Crowe, Head of Risk and Assurance at the University of Liverpool explains that the project is inspired by the university's mission: 'For advancement of learning and ennoblement of life' – neither of which can be achieved in an unsafe environment.
"It's our absolute duty to make sure our students are as safe and secure as possible," Stewart said. "With regards to managing fire we felt there was a gap with some PBSA providers that we had to address. Smaller providers don't necessarily have the resources to raise their standards without upskilling support. The partnership group has provided that support and aims to help PBSAs across the city to understand this isn't about achieving legal minimums but about getting to the best possible standard. We have an educational role with providers, and together with the other universities in the city we've engaged with non-registered providers about what the goal is: to be a beacon city, recognised as nationally excellent in this field."
Welcoming the award, Syd Cottle, University of Liverpool's Director of Estates Management, said; "It is fantastic to win this category and accept the AUDE Award for this important project on behalf of those involved in the project and the University of Liverpool. National recognition from your peers means a lot to us and we are grateful for this. We believe this approach can be replicated by other universities drawing together civic partnerships on subjects of mutual concern or opportunity, and it can be tailored to other fields of interest. It is also important for us to recognise and thank our fellow HEI partners also involved in this project, in particular Mark Askem from John Moores University and James Ellison from Hope University."
Speaking on behalf of the judges, Jane White, AUDE's Executive Director said: "Speaking to Syd and Stewart about this project, they are keen to give credit to the range of those involved in the partnership group, and of course it is that collaborative mindset that enables the project to succeed in the first place. The judges were impressed that this project grasps one of the most important challenges we face and provides concrete leadership to the task of raising standards for all."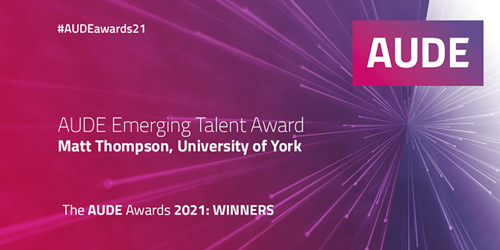 The AUDE Award for Emerging Talent
WINNER – Matt Thompson, University of York
"I wasn't expecting this at all," said Matt Thompson, Graduate Mechanical Engineer at the University of York and winner of the AUDE Award for Emerging Talent 2021. "It's come as a really nice shock."
Matt is the first member of the estates team at York to be taken onto a new graduate programme and has been the pilot for a scheme that has now been running for four years. It is the vision of the directorate at York to get more graduates into the estates department and to provide the kind of early career support that makes a difference. Matt's goal is Chartership with the Institute of Mechanical Engineers – his papers go in later this year, perhaps with an added line to reflect his award win.
"As the first graduate into the programme at York it has been for me to grab the opportunity and make of it what I can," Matt said. "I was really impressed by the thought the team at York had put into the recruitment process and indeed to every aspect of support since then. I've been working on projects that have a skew towards our science departments. So at the moment I'm working on the installation of a new electron microscope with the Physics department, and it is great that after almost four years at York I'm trusted to manage valuable projects with tight deadlines. This science bias to my projects has been somewhat accidental but it has helped me find a focus within the role. One of my first main activities here was with our Chemistry Department – the Helium Recovery Project. £9.6m of research relies on a safe and steady supply of helium, but shortages of supply were endangering the programme. I led a project to install a helium capture system that now allows us to sell back to the distributors, producing a 25% saving on liquid helium for the department, and no disruption to research."
"Matt won a university award for that programme in his first year here," adds Stephen Talboys, Director of Technology, Estates and Facilities at York. "That really marked him out almost from the day he arrived, and has been a key part of colleagues, particularly in science fields, learning who he is, what he can do and how well he can do it. Matt is a key part of the department's mission to build a stronger and more capable team. His performance has given confidence not only that the department can deliver a valuable learning experience to new graduates but also that we will see a positive contribution from them in return."
"Matt has clearly made an impact in his early career at York, and the AUDE judges join me in wishing him all the best for the future," said AUDE Executive Director Jane White. "We really appreciated his determination to get stuck into the task of making the most of the new graduate scheme. Three years later that proactivity shows itself in his work on Covid response – creating York's first published guidance on ventilation for instance."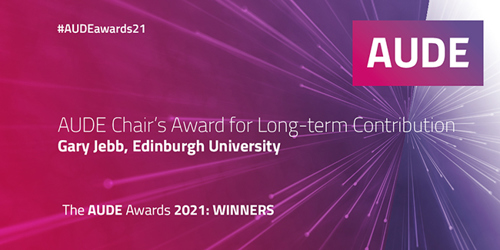 The AUDE Chair's Award for Long-Term Contribution
WINNER – Gary Jebb, Director of Place at the University of Edinburgh
"I'm genuinely thrilled," said Gary Jebb on hearing that he has won the 2021 AUDE Chair's Award for Long-Term Contribution. "It's a privilege in life to be recognised by peers and this means a lot to me."
Gary Jebb knew on arriving at Edinburgh that he'd been given "a very interesting train set to play with."
"It's a world class university in a world class city. Cities are often built around our universities, and that's been the case at Edinburgh since we opened our doors back in the 1580s. The estates team here are 'guardians of the beloved tartan' – it's our task to maintain, repair and improve upon the fabric of the university so that we can confidently hand on that responsibility, with the estate better than we found it. It is an honour to have been part of the Edinburgh story.'
"I don't support the notion that the University is an ivory tower, isolated from its city. Edinburgh has always been 'the town's college' and it should remain a key pillar in the city, as well as its teaching and research having national and international impact. Both at Edinburgh and in my first HE director role at Queen's University Belfast, we saw the link between the quality of the estate and our ability to attract the very best students and staff."
In both of these roles Gary has been instrumental in overseeing the successful delivery of 'game-changing' programmes of estate development as well as many enviable conservation projects in both cities. Queen's is located within three conservation areas whilst Edinburgh forms a large part of the Old Town World Heritage Site.
Gary has also transformed the role of Director of Estates and has been critical to the creation of the role of Director of Place for Edinburgh; he now plays a significant role in the senior leadership of the University, contributes to the local development of the City of Edinburgh and region, and continues to influence the wider sector discourse as well.
"Over the years Gary has supported AUDE through a variety of roles; most notably Chair of our Conference Steering Group up until 2016, as a member of the AUDE Executive and a big supporter of SAUDE; and by collaborating on the leadership development programme and facilitating events including the 2019 Big Conversation in Edinburgh," said Stephen Wells, current AUDE Chair. "It's a pleasure to be able to thank Gary for all of this with the AUDE Chair's Award."